Coloured glass splashbacks


TOUGHENED AND BESPOKE MADE PRODUCT
Interior design-related trends keep changing quite rapidly and sometimes it is really hard to follow them and be up-to-date with all the solutions recommended by professionals. If you want to be truly unique while at the same time taking advantage of exceptionally durable and aesthetically pleasing materials, you should opt for coloured glass splashbacks being one of items in our offer. Even though the Par Glass Company offers its customers a myriad of glass-related products, we are exceptionally proud of our splashbacks, as they can truly transform a typical and dull space into an architectural masterpiece! Some of you may not know what splashbacks are, so within the scope of this subsection of our website, we would like to provide you with as comprehensible and understandable explanation as possible. In simple words, colored glass splashbacks are colored glass panels that can be used in an exceptionally high number of applications.
GLASS SPLASHBACKS
The items in question can be utilized to enhance the look of your habitable space, office, or storage area, among others. Thanks to them, you can transform your old-fashioned kitchen set into a modern or even futuristic-looking one. Nevertheless, when it comes to coloured glass splashbacks, the available options do not end there! You can also incorporate them into your favorite items of furniture, such as drawers, cupboards, and tables – they will surely add uniqueness and depth to your decorative items that way. glass splashbacks can also be attached to walls and ceiling in order to cover holes and stains, make a given area seemingly more spacious, as well as to simply change the overall look of the space you work or live in. Aside from the fact that splashbacks can be utilized almost everywhere, our company has also come up with proprietary manufacturing techniques, thanks to which the discussed finishing items can be purchased in over 1800 shades and hues! That way, you are guaranteed that the provided color of the desired final product will ideally match the color pallet that has been chosen for your office, living room, loft, or storage area.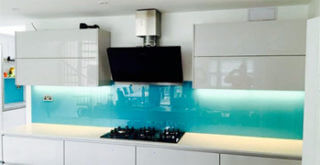 At Par Glass, we excel in the production of coloured glass splashbacks, so we constantly switch between typical, standard products for corporate customers and those more personalized ones which are made on individual clients' requests. Both types of items are produced with utmost care and in full compliance with the presented specification. In the latter case, however, we can also adjust the dimensions of prepared splashbacks to perfectly suit those of your room, which will in turn eliminate the need of introducing modifications, improvements, and changes that may damage the delicate structure of our coloured glass panels. It is worth indicating at this point that we are most keen on utilizing low iron glass, which has proven to be perfect in both occupational and commercial applications.
COLOURED GLASS SPLASHBACKS
It is characterized by remarkable durability, proneness to coloring, as well as by exceptional customization parameters. By using it, we are capable of creating glass panels the length of which is equal to 4 meters! Combine it with the vision of a sturdy element being prior colored the way you asked us to and the final outcome is the product that will fully satisfy your needs and expectations.
COLOUR OPTIONS
(Click on the logo to choose colour)




If you happen to be interested in our coulored glass splashbacks and would like to order some in order to enhance the overall look of your room, office, attic, or storage area, do not hesitate and contact us today! We will ask you several basic questions to specify what type of product you need, then provide you with a detailed quotation, and if you express your willingness to start cooperating with us, we will proceed to producing coloured glass panels for you.
If you are not sure what splashbacks are right for your project, drop us a line or give us a call and we will provide you with toll-free advising services! Par Glass experts are waiting for you!