Back Painted Glass Splashbacks


TOUGHENED AND BESPOKE MADE PRODUCT
Glass paint technology has evolved to meet the ever increasing demand for back painted glass products.
This versatile glass product is used predominantly for cladding applications and is equally suited to a residential kitchen splashback application as it is to cladding the walls within a busy office reception or wetroom/shower enclosure. PAR Glass London Ltd offers over 18000 colours options as well as oversize glass, we can produce toughened glass splashbacks up to 4m long without splits. We predominately use a low iron glass which is colourless to allow the true back painted colour to show through.
Glass splashbacks are highly reflective and allow an option to add a bright burst of colour or to blend a base colour into a room such as white, grey or cream. We would always recommend choosing a complimentary colour rather than colour matching to other painted areas within a room.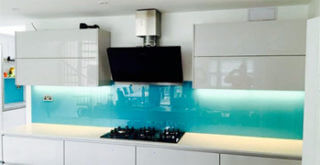 COLOUR OPTIONS
(Click on the logo to choose colour)
          



COLOURED GLASS SPLASHBACKS GALLERY ⇒
If you have been looking for a state-of-the-art and highly interesting interior design-related solution, you should definitely check out back painted glass. Thanks to the variety of available colors, shapes, and patterns, it will surely fit nicely into both office and residential spaces. If you want, you may also decorate your very own storage area with it – back painted glass is a remarkably versatile solution that will surely match a wide variety of interiors!
We are also glad to inform all the interested individuals that we have started utilizing proprietary manufacturing solutions, thanks to which each and every element of design proposed to our customers meets the strictest requirements, both in terms of aesthetic and utilitarian features. From the point of view of a prospective customer, the most important information is the fact that our products are made out of superb quality durable glass. Due to that, you are guaranteed that items purchased from us will serve you for quite some time and will not require any costly maintenance, renovation, or replacement.
Private and corporate clients are also stunned with the virtually unlimited number of hues and shades of our back painted glasses. A wide array of colors makes it possible to fit them into almost every space, regardless of whether it has been decorated in an innovative or old-fashioned manner. We can safely say that glass items are timeless in character – they will look as good in ten years' time as they do today.
Back Painted Glasses
Some of users browsing our website may be curious if it is beneficial to choose us while being able to select from a remarkable number of companies operating in the same branch of industry. We stand out from the crowd predominantly because of the fact that we are capable of producing customized and over-sized back painted glasses in London. Thanks to that, you do not need to attach and combine several items of interior design to create a pattern you truly desire. With us, you can order elements that are even 4 meters in length! It allows for a significant customization of your habitable or office space and ensures that family members, guests, or customers visiting you will envy you our aesthetic choices. Additionally, we can safely say that the goods of the discussed kind offered by our professionals are available in reasonable prices. It will be problematic to find back painted glass in the case of which the value-to-quality ratio is so decent. Do not hesitate and contact us today – we will surely be able to find a solution perfectly fitting your needs! More splashbacks information here.



© Copyright 2019 Par Glass London LTD